Year 13 celebrate Results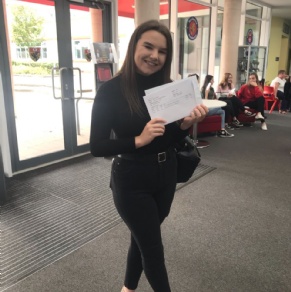 Cotswold Edge Sixth Form, the consortium of Brimsham Green School, Chipping Sodbury School and Yate Academy, is delighted to celebrate the combined achievements of their Year 13 students, following the release of their examination grades today.
Kim Garland (Headteacher, Brimsham Green School) said, "All of our Year 13 students have worked with determination and, as a result, have made excellent progress. They have made good use of the unfailing support of their teachers and are now looking forward to their university degree courses and apprenticeships." Katherine Turner (Headteacher, Chipping Sodbury School) added, "Students have been able to study a wide combination of subjects at CEDGE, and the results today show that students have really benefitted from our diverse curriculum, which includes the Extended Project Qualification, The Duke of Edinburgh's Award etc." Izzy Ambrose (Principal, Yate Academy) concluded, "I am thrilled that the partnership working between our three schools has enabled so many students to continue to study locally and exceed their expected grades."
Yate Academy students have made great progress over the two years' of study and they have beaten last year's performance. Many students have met or exceed their aspirational target grades and they deserve huge congratulations. Some notable achievements include Matthew Bailey who received an A* in photography and will be studying at the University of Plymouth. We look forward to seeing his work published in the near future! Jasmine Upton achieved an excellent set of A-Levels and will be studying law at London South Bank University. Both Erin Clayton and Katie Nash have been given offers to study psychology at Bath Spa University. The average grade for vocational subjects was a Distinction which is a fantastic achievement for all those of those students, many of whom are continuing to University or have secured apprenticeships.
Looking ahead, students who are currently studying GCSEs and will be entering Sixth Form in September 2020 are invited to attend Cotswold Edge Open Evening, on Thursday, 14 November. Full details are available from the schools' websites, including the CEDGE prospectus. Equally, students who are at the very beginning of their journeys into secondary education are warmly invited to come and find out what makes Yate Academy so special. We have an 'open day every day' policy so please do feel free to visit main reception anytime and we will give you a school tour. You are also warmly welcome to attend our Open Evening (Thursday, 19th September) between 6-8pm.
Students awaiting their GCSE results prior to registering at Cotswold Edge for September 2019, should join us on Thursday, 22 August from 11am. onwards. Registration is being held at Brimsham Green. All information is available on the schools' websites.