Year 6 have action packed trip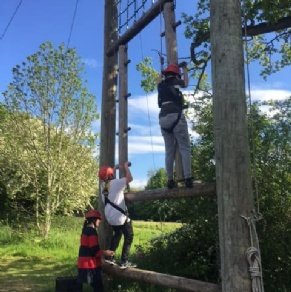 Year 6 enjoyed their camp out in May!
In May, our Year 6 children enjoyed an action-packed residential visit.
Their first activity on the long list (after a successful pod inspection), was raft building. A brilliant time was had by all!
Following a good nights sleep, the sun was shining and the children tackled rifle shooting, catapulting and archery.
They spent an exciting afternoon climbing and zip-wiring! This was followed by Wacky Races in the evening.
The highlight of their last day was dancing the Cha Cha Slide as the sun set.
It was a brilliant trip. The resilience and team building we've witnessed has been phenomenal. Everyone was very sad when it came to an end!
Miss Parkhouse