Outstanding A Level results: Head boy and girl accepted to oxbridge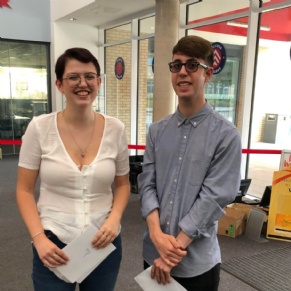 Despite unusual circumstances, students have performed exceptionally well in their A Levels.
Despite unusual circumstances the students at Yate Academy have performed exceptionally well in their A Levels and have secured some outstanding destinations. Students have been awarded their grade which has been generated by teacher predictions combined with a national standardisation process to ensure results are comparable to last year. Yate has shown outstanding performance with 40% of students achieving an A*/A grade and 91% A*-C grade. In addition, over half of all students obtained an A*-B grade. Students are moving onto very bright futures and have secured some incredible destinations including Oxbridge and places at top Russell group universities.
Some notable achievements include Mason Wakely (head boy, above) who achieved A*, A*, A*, A* in chemistry, maths, geography and physics. He will be studying chemistry at Oxford University next year. Anna Piper- Thompson (head girl, above) achieved an incredible A*, A*, A* in English Literature, English Language and Geography and will be studying English at Cambridge University. In addition, Rhiannon Jones will be studying medicine at Cardiff University after securing A*, A*, A in maths, chemistry and biology. Further congratulations go to Caitlin Bidwell who is studying criminology and psychology after securing A*, A, A. Oscar Jones and Jess Bridgeman who achieved five A grades and one distinction* between them. Ryan Puddy will be studying computer science at university after achieving two distinction* grades and one distinction. Our students should be exceptionally proud of their results and are looking forward to their next stage.
Headteacher, Izzy Ambrose, has said: "It is really important, despite the media coverage about grade adjustments and the challenges of awarding this year's qualifications, that we celebrate students' hard won achievements. Certainly, the process of awarding grades, both internally and externally, has been one of very high scrutiny. Consequently students, their parents, employers and universities can be secure in the knowledge that where students have been awarded an A* or Distinction* grade, for example, these are fully comparable to previous years, and have not been easily achieved.'